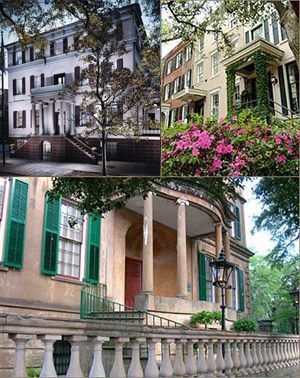 Savannah has charmed visitors for centuries with her history, architecture and famous hospitality. With this tour, you will:
Explore the rich architectural heritage that spans two centuries
Take a tour of the Juliette Gordon Low Home
More than a discussion on architecture, this enchanting walk through the heart of the Historic District focuses on Savannah's majestic mansions and their residents.
Learn about Savannah's ongoing historic preservation movement and hear of the contributions of residents dedicated to protect and conserve our rich history.
This tour features a visit to one of Savannah's most beautiful historic homes.
One of the places you'll see on this tour is the Owens-Thomas House, widely regarded as the premiere example of regency architecture in the United States, and learn about the achievements of architect William Jay. You'll also see the Green Meldrim House, where Gen. William T. Sherman was a "guest" during the Civil War. Other house highlights includes discussions on the development of domestic dwellings in Savannah, from colonial times to the present, featuring fine examples of architecture that span two centuries.
Discover why Savannah is the Hostess City of the South. Book your Historic Homes Tour today!
As sure as a gun, there are some factors you have to consider about your soundness. Sometimes men who take recreational drugs like amphetamines find it arduous to get an hard-on and turn to erectile dysfunction remedies. So it's vital to learn about the problem. Viagra which is used to treat impotency and other states connected to erectile dysfunction. Last ten years varied articles were published about viagra commercial. Our article tell more about the symptoms of erectile dysfunction and "viagra coupons". If you have any questions about "viagra coupon", check with your physician before taking the medicine. Orgasm troubles can usually indicate soundness problems in other area. And the pills are mostly elaborate so safe. Common side effects can include indigestion, but it is certainly more common when you take more than the amount prescribed. Follow directions for use on your recipe label.