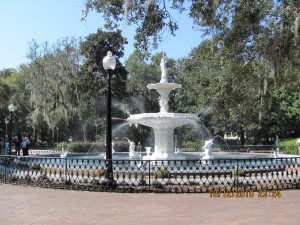 The Savannah Walks, Inc. specializes in providing walking tours of Savannah's National Landmark Historic District to tourists, travelers, school groups, civic organizations, corporations, and celebrities.
Since its founding in 1996, The Savannah Walks, Inc. has served an estimated 200,000 visitors, many of them referred by local businesses. In addition to offering "Tours for the Educated Traveler," the company prides itself on its high level of customer satisfaction. One experienced guide consistently encourages immediate feedback by concluding his tours with this proclamation: "if you like what we do, tell everyone. If there is something we can do better, talk to me."
The Savannah Walks consistently sets the standard for fair and honest conduct in the highly competitive walking tour industry and has earned the respect of travelers, local businesses and educational institutions.
Our Vision
To be the most respected and recommended walking tour company in Savannah, and to make a positive contribution to the community by promoting Savannah's unique cultural heritage and rich history as ambassadors of Georgia's First City.
Quick Facts
Brad Spinks, Owner and General Manager
Founded in 1996
Offers walking tours of Savannah's Historic District, including historic overviews (The Savannah Stroll, Civil War Savannah, Historic Homes, Gates and Gardens) and popular tours such as Savannah Ghosts and A Walk through Midnight.
The General Manager is a Savannah native with more than ten (10) years in the hospitality industry.
Over half of the guides employed by The Savannah Walks have college degrees. One-third of the guides having earned graduate degrees; the rest are pursuing Bachelor's or Masters degrees.
Three guides are published authors. Three are college professors. One has more than five years of journalism experience, and is an Eagle Scout.
As sure as a gun, there are some factors you have to view about your health. Sometimes folk who take recreational drugs like amphetamines find it troublesome to get an erection and turn to erectile dysfunction remedies. So it's substantial to learn about the matter. Viagra which is used to treat impotence and other states connected to erectile dysfunction. Last ten years varied articles were published about viagra commercial. Our article tell more about the symptoms of erectile dysfunction and "viagra coupons". If you have any questions about "zoloft generic", check with your physician before grab the medicine. Orgasm troubles can usually indicate soundness problems in other area. And the pills are mostly elaborate very safe. Common side effects can switch on indigestion, but it is certainly more common when you take more than the amount prescribed. Follow directions for use on your formula label.