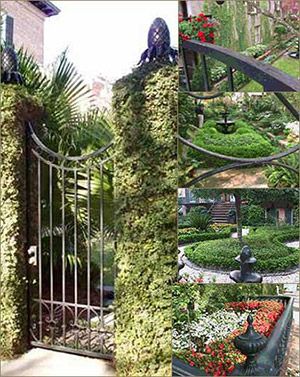 Savannah's legacy as a garden city is firmly rooted in her humble beginnings as a novel agrarian experiment. Today, massive oaks shade stately squares and handcrafted iron gates grace elegant courtyards. Come along with us as our knowledgeable guides reveal the secrets of Savannah's gates and gardens. The Gates & Gardens Walk highlights:
22 major squares and parks bursting with color and landscape design
Elegant ironwork
Finest private urban gardens in the country
The tour for the green thumb and amateur alike. Wander along through the residential districts of the city and glimpse into the gardens that have made Savannah world famous as an urban forest.
"…with twenty-two luscious green squares it is like strolling through the rooms of an elegant open air mansion."
— John Berendt (Author, Midnight in the Garden of Good and Evil)
Come see what lies behind the gates of some of Savannah's finest homes. The "Gates and Gardens Walk" is a unique tour that lets you explore the fauna of this lush and green forest city.
Discover why Savannah is the Hostess City of the South. Book your walk! today!