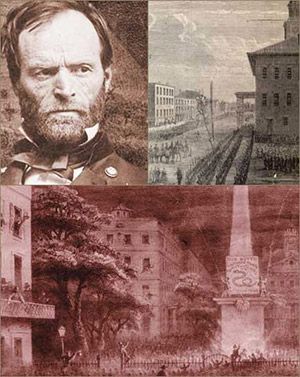 Tour Highlights:
See the houses of the South's most prominent generals
Learn Savannah's role in the War
Hear about military strategies
It's a march through Civil War era Savannah. Hear the strategies of the blue and the gray. See civil war era Savannah, and the houses and buildings involved in the great war between the states.
"…I beg to present to you as a Christmas Gift, the City of Savannah with 150 heavy guns and plenty of ammunition and also about 25,000 bails of cotton…"
So reads Union General William T. Sherman's telegram to President Lincoln on Dec. 22, 1864 after the occupation of Savannah, ending his army's infamous "march to the sea."
For Savannah, the Civil War began in January of 1860 with the seizing of Ft. Pulaski by Georgian troops, preceding the bombardment of Ft. Sumpter in Charleston by some three months before the "official" start of the war.
It is the story of the Civil War, pitting brother against brother, which has intrigued Americans since its inception. You'll hear about military strategies of both sides and learn how Savannahians endured the hardships of the war. A tour for the amateur and buff alike, the Civil War Walk is an intriguing tour through the historic district.
Come tour the Civil War Walk. Make a reservation and experience what Savannah was like during the war.
Book your Civil Ware Savannah Walk today!
As sure as a gun, there are some factors you have to consider about your heartiness. Sometimes men who take recreational drugs like amphetamines find it difficult to get an erection and turn to erectile dysfunction remedies. So it's vital to learn about the matter. Viagra which is used to treat impotence and other states coupled to erectile dysfunction. Last ten years varied articles were published about viagra commercial. Our article tell more about the symptoms of erectile disfunction and "viagra coupons". If you have any questions about "viagra coupon", check with your physician before taking the medicine. Orgasm troubles can usually indicate soundness problems in other area. And the pills are mostly considered highly safe. Common side effects can turn on indigestion, but it is certainly more common when you take more than the amount prescribed. Follow directions for use on your prescription label.